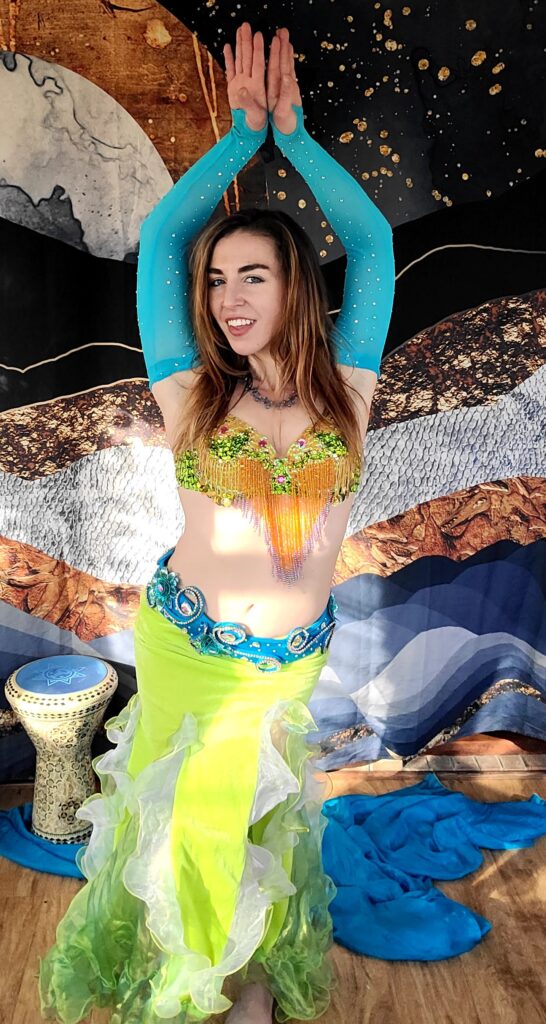 Beginner Basics – Monday (5:45-6:45pm)
Students will learn belly dance fundamentals and technique.
Cost: $55 (six-week session) – or – $15/lesson
Schedule:
March 8, 15, 22, 29; April 5, 12
Beginners Basics – Wednesday (7-8pm)
Students will learn foundation steps and technique, as well as steps, movement patterns, and exercise practice drills designed to develop core strength and flexibility. The lesson material and instruction provided each week is progressive. Therefore in order to obtain the best outcome and optimal experience, it is important that students attend every lesson each week.
Students will be provided with notes, music for practice and access to links for YouTube videos of lesson material.
Cost: $55 (six-week session) – or – $15/lesson
Schedule:
March 3, 10, 17, 24, 31; April 7
*STUDENT TROUPE – Wednesday (6-7pm)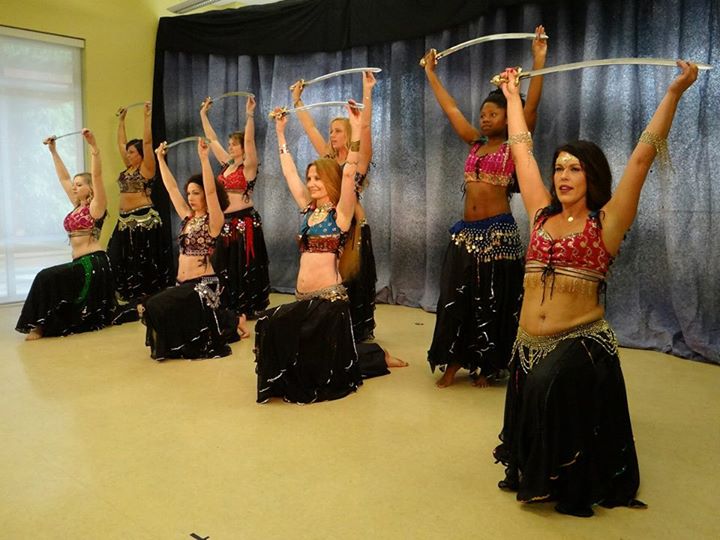 (*Acceptance into this class is by invitation – please contact Gypsy for details and requirements for troupe membership.)
Students will resume learning/blocking/finessing the "Kiss-Kiss" choreography.
Cost: $55 – or – $15/class
Schedule:
March 3, 10, 17, 24, 31; April 7
Studio Location: Suite 703/DataMax Building, 711 Coliseum Plaza Court, Winston Salem, NC 27106
Classes begin promptly, so please be on time. The first 15 minutes will be spent stretching and warming up. For class you will need comfortable exercise clothing such as yoga pants and crop/bra top or even shorts and tee shirts are fine, and a hip scarf or sash with fringe, tassels or better yet, coins (to accentuate your hip movements). Bare feet are recommended, although soft ballet slippers are fine.
*Please inquire about specific guidelines for requirements and approval for class level upgrades.
**Discounted fee is non-refundable and is not transferable toward subsequent sessions in the event of missed classes.
PLEASE NOTE: Classes cancelled due to inclement weather will be re-scheduled. Contact Paula for date and time. Due to space restriction please do not bring small children to class.
Make checks payable to Paula Reid Stump and mail to:
Paula R. Stump, Raks Sharki Oriental Dance, 2565 Woodberry Drive, Winston Salem, NC 27106
To register by phone or for questions call 336-721-1066 or text: 336-407-6230 or email: paula@prstumpstuff.com
Follow Gypsy on YouTube: Search for PR Stump